ICREI at glance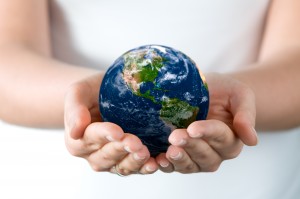 The The International Center for Research on Environmental Issues (ICREI pour l'International Center for Research on Environmental Issues)  was set up in Paris (1992) under the leadership of Alain Madelin and Henri Lepage by a group of French economists and lawyers who, in conjunction with foreign colleagues, aimed to spread publications and conduct research on new resource economics i.e. using property rights and market transactions, assessing the net impact of social regulations, using the principle of responsibility and promoting institutional arrangements for a free society. Accordingly, several meetings were set up in the premises of Assemblée Nationale from 1992 to 1995 inviting top speakers to discuss the pros and cons of such an approach. Most conferences have been recorded and transcripts are available.
ICREI at glance - Our Brochure
In 1996, under the chairmanship of Alain Madelin and Michel Massenet, Conseiller d'Etat, Dean Jean-Pierre Centi at the University Paul Cézanne (Aix en Provence) and Max Falque, International Consultant and Deputy manager of ICREI, it was decided to organize every two years an international conference dealing with each environmental resource with the perspective of non-regulatory tools i.e. property rights and markets. In 1996, the conference discussed general concepts and ethics ; in 1998, it dealt with Water ; in 2000 the theme was Marine Resources, in 2002, Coastal Zone , in 2004 Wastes, in 2006 Land Resources, in 2008 Climate change and air pollution, in 2010 Biodiversity and in 2012 Agriculture and Forestry.
Responsables et organisateurs
Members of the board
Alain Revel, Ingénieur Général honoraire du GREF
Annie Charlez, Office national de la Chasse et de la Faune Sauvage
Ann-Louise Strong , Professeur honoraire, University of Pennsylvania
Barbara Pozzo, Professeur de Droit Comparé, Université de Milan
Baudouin Bouckaert, Doyen de la Faculté de Droit de Gand
Bernard Courtois, Préfet honoraire, trésorier des Ingénieurs de l'Agro
Bruce Yandle, Doyen honoraire de Clemson University (Etats-Unis)
Carlo Stagnaro, Directeur Environnement à l'Istituto Bruno Leoni (Turin)
Dominique Garrigues, Président IEGRE (Paris)
Ejan Mackaay, Professeur de Droit, Université de Montréal
Elizabeth Brubaker, Directrice de Probe Canada (Toronto)
François Facchini, Maître de Conférence, Université Paris 1
Guillaune Sainteny, Professeur à Sciences-Po
Hannes Gissurarson, Professeur à l'Université de Reyjawick (Islande)
Henri Lepage, Délégué Général de l'Institut Turgot
Jean-François Saglio, Président Airparif
Jean-Luc Migué, Professeur à l'ENAP, Québec
Jean-Philippe Feldman, Avocat et Professeur de Droit (Paris)
Jean-Philippe Vincent, Administrateur Civil, Ministère de l'Economie et des Finances
Jean-Pierre Chamoux, Professeur Université Paris-Descartes
Michel Kelly-Gagnon, Directeur de l'Institut Economique de Montréal
Olivier Piron, Conseil Général de l'Environnement et du Développement durable
Patrick Simon, Société d'Avocats Villeneau, Rohart,Simon (Paris)
Philippe Billet, Président de la Société Française pour le Droit de l'Environnement
Pierre Desrochers, Professeur à l'Université de Toronto
Roger Bate, Fellow at American Enterprise Institute (Washington)
Thierry de l'Escaille, Secrétaire Général de European Landowners Organisation (Bruxelles)
Thierry Lavoux, Conseil Général de l'Environnement et du Développement durable
Vincent Bénard, Président Institut Hayek-France
Representatives
Présidents d'honneur:
Michel MASSENET Conseiller d'Etat, et Alain MADELIN, ancien Ministre
Président:
Christian STOFFAES, Ingénieur Général des Mines, Président du CEPII
Vice Président et trésorier:
Henri LAMOTTE, Administrateur Civil, Professeur à Sciences-Po
Secrétaire Général:
Doyen Jean-Pierre CENTI, Université Paul Cézanne Aix en Provence
Délégué Général:
Max Falque, Consultant International en Politique Environnementale
Délégués Généraux adjoints:
Sophie Fiorucci, Valérie Brun, Emmanuel Martin, Docteurs Science Economique

Funding
Diversified private and public funding is a guarantee for intellectual freedom and free speech.
Each conference requires a specific biannual budget of some $ 250 000 in order to set up and implement the conference and publish the proceedings
Institutions (*: Supporting Institutions)
ADEF-Etudes Fonçières
ADEME* Agence de l'Eau Rhône-Méditerranée-Corse*
Agence Internationale pour l'Energie
Agence Nationale Gestion Déchets Radioactifs*
American Enterprise Institute-AEI*
Assemblée Permanente des Chambres d'Agriculture-APCA
Association des Maires de France
Association des Petites Iles de France
Association Française de l'Assurance*
BlueNext*
Association Générale des Producteurs de Maïs*
Cabinet d'Avocats Boitel
Cabinet d'Avocats Peignot
Caisse des Dépôts et Consignation*
CEMAGREF
CEMARE (Portsmouth)
Center for Policy and Legal Studies -Clemson University
Center for Private Conservation
Centre de Droit et d'Economie de la Mer-CEDEM
Chambre Régionale d'Agriculture Provence Côte d'Azur*
Chasseurs de France*
CIRAD*
CNRS
Commissariat à l'Energie Atomique
Commission Européenne*
Commission Interministérielle d'Ichtyologie de Russie
Communauté du Pays d'Aix et Ville d'Aix en Provence*
Competitive Enterprise Institute-CEI
Complete Fisheries Management-Australia
Conseil de l'Europe
Conseil Général des Bouches du Rhône*
Conseil Général du Vaucluse
Conseil Régional Provence Alpes Côte d'Azur*
Conseil Supérieur de la Pêche*
Conservation Service Company (Australie)
Conservatoire du Littoral et des Rivages Lacustres
Coopers and Lybrand -Belgique
Country Land and Business Association (UK)
Deutchsche Bank*
DIACT-DATAR*
Duales System Deutschland
Eau et Rivières de Bretagne
Ecologie Bleue
Electricité de France*
Energie Intelligence Entreprise pour l'Environnement*
Environment Probe Canada
Euromed-Ecole de Management
European Landowners Organization*
FAO
Fédération des Agriculteurs Suédois
Fédération des Automobiles Club de France
Fédération Nationale de la Propriété Privée Rurale *
Finnish Environment Institute
Fondation Nicolas Hulot
Forestiers Privés de France*
Foresttour France
Nature Environnement France Action Locale
Free Foundation*
Friends of the Countryside
Fundacion para el Analisis y los Estudios Sociales (FAES Madrid)
Gaz de France*
Hayek Institute
Héritage et Progrès
HighTech Environnement
IFREMER*
INRA
Institut d'Etudes Politiques d'Aix en Provence
Institut de Recherche pour le Développement-IRD
Institut du Développement Durable et des Relations Internationales-IDDRI
Institut de Stratégie Patrimoniale-INA-PG
Institut Economique de Montréal*
Institute for Economic Affairs-IEA
International Association for the Study of Common Property
International Policy Network
Istituto Bruno Leoni*
IUCN/UICN
JM Sloan Company
Laboratoire d'Anthropologie Juridique-Sorbonne
Laboratoire d'Econométrie de l'Ecole Polytechnique
Land Trust Alliance
Liberty Institute India
Lincoln Institute of Land Policy*
Lyonnaise des Eaux*
Maison de la Chasse et de la Nature*
Max Planck Institute for Research on Collective Goods
Ministère de la Culture*
Ministère de l'Agriculture et de la Pêche*
Ministère de l'Ecologie et du Développement Durable*
Ministère de l'Economie et des Finances
Ministère de l'Education Nationale*
Ministère des Affaires Etrangères
München Re Nanging Agricultural University (China)
National Trust for England and Wales
OCDE / OECD
Office de la Mer de Marseille*
Office National de la Chasse et de la Faune sauvage*
Ordre des Géomètres Experts
Parc Marin de la Côte Bleue.
PME France
Property and Environment Research Center (USA)
Recy''stem
Reason Public Policy Institute, (USA)
Regierung Präsidium Bade Würtemberg
Réseau de Transport d'Electricité-RTE*
Rivages de France
Rotary International (District 1760)*
Salins du Midi*
Science and Environment Policy Project
Sea Rights Investment -New Zealand
Société des Agriculteurs de France-SAF
Société d'Avocat Peignot Garreau
Société Française pour le Droit de l'Environnement
Total Fina *
UNESCO
Université Paul Cézanne*
University of Wisconsin-Madison
Universidad Valladolid
Université de Milan VEETRA*
VEOLIA Environnement*
Ville de Marseille*
Virginia Conservation Credit Pool
Walter Eucken Institut
Waste Watch (UK).
WWF-Belgique
Contributors at the Aix en Provence Conferences
Alban F., Alterman R., Anderson T., Antoine P., Arnauduc J. P., Arnold O., Auvinen H., Avon M., Baden J., Bachet F., Ballu-Rousseau G., Balossier J., Barrière O., Barbier R., Bate R., Baudry R., Bazin P., Beatty R., Beaurepaire E., Becker P., Benjamin K., Betge E., Bertolini G., Beltrame P., Benard V., Benest G., Benjamin D. K., Berge E., Biglione F., Billet Ph., Blomquist W., Blanchet D., Boissery, Boitel C;, Boisvert V.,Bonde F.,Bougeant P., Bourassa S., Bouyssou F., Braathern N. A., Bramoullé G., Brehon N., Brun V., J.,Buclet N., Buckwell A., Buchner B., Budniock M.-A., Bueb J.-P., Cambers G., , Capmas A., Carbonell A., Caron A., Casas Pardo J., Catanzano J., Ceccaldi H. J., Cesar H., Chaigneau A., Chamoux J.-P., Cambers G., Casas-Pardo J., Charlez A., Chassy (de) C, Chéret Y., Chérot J.- Y., Chevtchenko V.., Chirouze J. P., Clément D., Cole D., Collet S., Comby J., Cordell J., Corkindale J., Courant D., Crépieux D., Cros C., Cousens B., Cunningham S., Dalbin Ph., Davigo J., Daillant P., Davigo J., De Alessi M., Dehez G., Dejardin D., Dejean-Pons M., Delbosc A., Delogu O., Demandolx (de) J., Denys M., Deronzier P., Désagher M.., Desrochers P., Destandeau F., Demouveaux J.-P., Dumashie D., Dumonteil G., Edwards R., Elisseeff V., Ellerman D., Elsen L., Escaille (de l') T., Epstein R., Facchini F., Fages E., Falque M., Falque M-B., Fedrigo D., Fiore K., Fisher S., Forasetto M., Fussler C., Galey M., Garrigues D., Gaudin T., Gazzaniga J.L., Gérard B., Gérondeau C., Giraudel C., Gissurarson H., Glachant M., Grandjean A., Godard O., Green K., Greenwell E., Grossan C., Guével B., Isner-Conci E., Jaeger L., Jallifer P., Jonckeere (de) S., Julienne C., Hagel Z., Halley B., Hartmann J., Hauet J.-P., Haumont F., Hocker J., Hocker Ph., Hodge I., Hostiou R., Howe C., Hugger H., Jacobs H.., Jaeger L., Jallifer P., Jones T., Jouventin P., Julienne C., Kinnaman T., Kosciusko-Morizet N., Krämer L., Kromarek P., Lacroix G., Lalonde B., Lamotte H., Langholz J., Largot J., Lavoillotte M. P., Lazzerini P., Le Bozec A., Lecat G., Leger M., Le Lourd Ph., Le Bars Y., Légué-Dupont P.,Leguet B., Lehmann M., Lepage C., Linet C.,Lepoder L., Le Roy E., Lescault J., Lewis M., Leynaud G., Longworth-Kraft J., Lopez E., Lundin C.., Leynaud G., Lidsky V.,Macchi A., McFarquhar A., Mahé P., Macera B.-F., McCay B., Mahé L.-P. Mairesse-Fiorucci S., , Maître Ph., Maljean-Dubois S., Marcu A., Markels M., Malafosse (de) J., Malaval P., Merville D., Marliave (de) L., Marteau S., Montgolfier (de) J., Maya-Ando G., Miran P., Mitra B., Monteillet S., Morin G. A., Morin A., Morris J., Mottet B., Mouly C.,Mühling-Hofmann A., Nakagawa H., Nelson R., Nordenfalk J., Nordmann C., Noury D., Ollagnon H., Padovani A., Pâques M., Paravy J. C., Pary B., Paz O., Peignot B., Pelissard J., Pennez J., Pérignon S., Perron D., Peurières Y., Petit O., Pézennec D., Pickering H., Picou P., Piednoël C., Peiser B., Pigasse J.-P., Pilate J.-M., Pirard R., Piron O., Pitron F., Piveteau V., Point P., Poiret J., Portugal L., Pozzo B., Prat J.-L., Prigent L., Prudhomme R., Puchades-Navarro M., Quoden J., Rauch E., Raufer R., Rébufat G., Rébillard A., Remond-Gouilloud M., Reiter P., Renard V., Renner A., Revel A., Rey-Valette H., Richard V., Risser R., Riedmiller S., Rodary E., Ropars C., Roux P.-H., Ruffing K., Sainteny G., Saglio J.-F., Salles J.-M., Salmi P., Sandberg A., Sanz Rubialès I., Savin C., Sayer M., Schiavetti H., Schmidt C.-C., Schricke V.,Schwartz S., Sebagh T., Segerfeldt F., Sicard M., Simard F., Simmonot Ph.., Simon G.,Simon P., Singer F., Sironneau J., Sloan J., Smallridge M., Smith F., Smith R. J., .Stagnaro C., Streck C., Strong A. L., Stroup R, Strosser P., Tchapmegni R., Tolman J., Trarnier B., Trapitzine R., Troadec J. P., Troost D., Truchet C., Truilhé-Marengo E., Ursault P., Valatin G., Vanderstricht C., Varjopuro R., Vaulx (de) M., Villand M., Woods A., YagiHirocki O., Yandle B., Yesou P., Xiaoping S. Zancanella R., Personnalités françaises et étrangères qui sont intervenues lors de colloques ou séminaires ICREI à l'Assemblée Nationale (1992-1995) – BADEN John, Président de la Foundation for Research on Economics and the Environment (Seattle). – BOUCKAERT Baudoin, Professeur de droit à l'Université de Gand. – BRODAGH Christian, Conseiller Régional Vert (Lyon). – BRONGNIART Philippe, PDG de la SITA, Lyonnaise des Eaux (Paris). – CHEROT Jean Yves, Professeur de droit public à Aix-Marseille III. – DARRIEUTORT Jean Pierre, Conseiller au Tribunal Administratif de Dijon. – FALQUE Max, Délégué général ICREI (Aix-en-Provence). – FUMENTO Michael, Journaliste scientifique (Washington). – HOCKER Jean, Présidente de Land Trust Alliance (Washington). – HUGLO Christian et LEPAGE-JESSUA Corinne, Avocats, Cabinet Huglo-Lepage (Paris). – KOWAL Jean, Electricité de France – JEFFREYS Kent, Directeur de recherches au Competitive Enterprise Institute (Washington). – LAFONT Jean, Sous-Directeur, Ministère de l'Environnement (Paris). – LAVOUX Thierry, Directeur de l'Institut Européen pour une Politique de l'Environnement (Paris). – LEISNER Walter, Professeur de droit public (Munich). – LEPAGE Henri, Délégué général EURO 92 (Paris). – LEPAS Armand, Directeur de l'Environnement, CNPF (Paris). – LE ROY Etienne, Centre d'Anthropologie Juridique (Paris) – MADELIN Alain, ancien Ministre (Paris). – MIRAN Patrice, Conseiller régional Vert (Nice). – MOYNE-BRESSAND Alain, député (Isère). – PECQUEUR Michel, Ancien Président Elf Aquitaine (Paris). – PERROY Alain, Directeur de l'Environnement, Rhône Poulenc (Paris). – RENARD Vincent, Directeur de recherche au Laboratoire d'Econométrie de l'Ecole Polytechnique (Paris). – REYNIS Bernard, Conseil Supérieur du Notariat (Paris) – ROBERT Jacques, Professeur de Droit (Paris) – SAGLIO Jean François, Ingénieur Générale de Mines (Paris). – SAINTENY Guillaume, Consultant (Paris). – SALIN Pascal, professeur de sciences économiques (Paris). – SCARLETT Lynn, Vice-président, Reason Foundation (Los Angeles). – SMITH Fred, Président du Competitve Enterprise Institute (Washington). – SORMAN Guy, Journaliste (Paris). – VIARD Daniel, Directeur technique du Conseil Supérieur de la Pêche (Paris) – .WILLIAMSON Robert, Inspecteur général des Pêches (Edinburgh). – YANDLE Bruce, Professeur d'économie à l'Université de Clemson (Caroline du Nord).