VIIIth International Conference
Property rights, economics and environment: Biodiversity
June 2010
AIX-EN-PROVENCE, France
Conference ProceedingsPresentation by M. FalqueGeneral TopicProgramConference CommitteesAssociated Institutions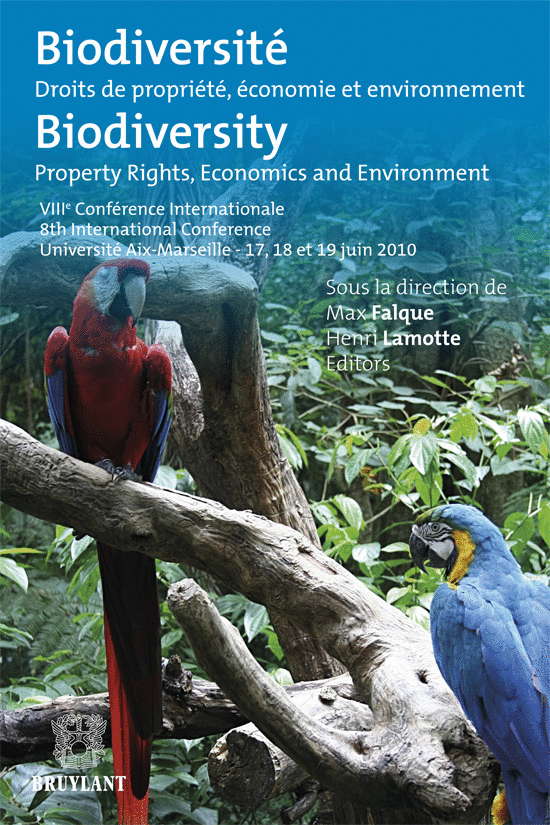 Bioversity protection policies mainly rely on a regulatory approach by limiting or controlling human activities in specific areas and by protecting specific species.
As for the the seven previous meetings the Conference objective is to explore to what extent property rights and economic instruments (taxes, markets for transferable quotas, …) could play a role as a complement and / or alternative to traditional "command and control" policies.
Benchmarks from successful biodiversity conservation throughout the world will be presented and discussed.

Patronage
S.A.S Prince ALBERT II de MONACO
Jean-Louis BORLOO, Ministre de l'Ecologie et du Développement Durable
Chantal JOUANNO, Secrétaire d'Etat à l'Ecologie
Ladislav MIKO, Commission Européenne Direction Générale Environnement
Members
Véronique MATHIEU, députée au Parlement Européen
Alain MADELIN, ancien Ministre
Marc PENA Président de l'Université Paul Cézanne
Jacques PELISSARD Président de l'Association des Maires de France
Jean-Claude GAUDIN, Sénateur-maire de Marseille
Jérôme BIGNON, Président du Conservatoire du Littoral et Rivages Lacustres
Michel VAUZELLE, Président de la Région Alpes Provence Côte d'Azur
Jean Noël GUERINI, Président Conseil Général des Bouches du Rhône
Maryse JOISSAINS-MASINI, Député-maire d'Aix en Provence
Thierry de l'ESCAILLE, Secrétaire Général-CEO de European Landowners' Organization
Brice LALONDE, ancien ministre
Jean-Damien PO, Délégué général de l'Institut de l'Entreprise
Laurent PIERMONT, Président de CDC Biodiversité
Edouard-Alain BIDAULT, Président de la Fondation pour la Préservation des Habitats et de la Faune Sauvage Laurent
KLEIN, Président de la Société des Agriculteurs de France
Anne-Laure NOAT, Présidente des Ingénieurs de l'Agro
Agence de l'Eau RMC
AGAM – Marseille
Association des Maires de France
Association « Les Ingénieurs de l'Agro »
Belleuropa
BirdLife International
Caisse des Dépôts et Consignation-Biodiversité
Centre d'Analyse Stratégique
Chasseurs de France
CIRAD
Columbia University
Commission Européenne DG Environnement
Communauté du Pays d'Aix
Competitive Enterprise Institute
Conseil Général des Bouches du Rhône
Conservatoire du Littoral et des Rivages Lacustres
Conservation Foundation
Double Check Ranch-PERC
Entreprise pour l'Environnement
Environmental Banc and Exchange
European Landowners Organisation
Fédération des Associations de Chasse et Conservation Faune Sauvage de l'UE Fondation pour la Préservation des Habitats et de la Faune Sauvage Fondation Prince Albert II de Monaco
Forest Trend
Forestiers Privés de France
Hayek Institute
Institut de l'Entreprise
International Association for the Study of Common Property –IASCP International Federation of Surveyors-FIG
IRD
Land Tenure Center
Ministère de l'Ecologie et Développement Durable
Nelson Institute for Environmental Studies
New Forests Inc.
OCDE / OECD (Paris)
Office National de la Chasse et de la Faune Sauvage
Office de la Mer de Marseille
Parc National des Calanques (futur)
Région Provence, Alpes, Côte d'Azur
Réseau de Transport d'Electricité
Rivages de France
Save Your World
Société des Agriculteurs de France (Paris)
Société Française pour le Droit de l'Environnement
Union pour la Méditerranée
Université de Tananarive
Université Paul Cézanne
VEOLIA
Ville d'Aix en Provence
Ville de Marseille
Wildlife Estates Initiative
World Conservation Trust
En association avec Victoire Editions et Projets Collectifs SciencesPo