Ist International Conference
Property rights, economics and environment: General Concepts and Ethics
June 1996
AIX-EN-PROVENCE, France
Conference Proceedings
The book was only available in French. There is one article available in English though.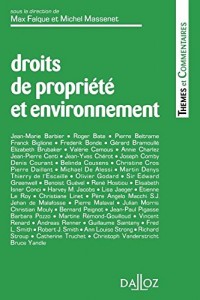 Harvey Jacobs : Social Conflict Over Property Rights: Environmental Thought, Environmental Action, and the Uncertain Future of the New Private Property Rights Movement in the U.S.
The 1996 international conference Under the patronage of Corine Lepage, French Minister of the Environment was coorganized by the Centre d'Analyse Economique in the premises of the University of Law, Economics and Science of Aix-Marseille, France.
Some fifty speakers faced a large public. This first conference introduced the general topics and issues related to the property rights approach to the environnement. It was directed by Max Falque and Michel Massenet.
Max Falque was trained in law and economics and graduated from the Paris Institute d'Etudes Politiques. He began a professional career as an international consultant on environmental policies since the early beginnings of 1970s after the Ford Foundation awarded him a scholarship for research at the University of Pennsylvania.
He published many articles and books on the relation between environment, planning and development (environmental planning and assessment), and on the implementation of environmental policies based on property rights and economic instruments respecting individual freedom.
Michel Massenet was trained at Ecole Nationale d'Administration in France and was a top level civil servant in the French Administration, especially General Director of the Public Servants. On Bertrand de Jouvenl's request he directed the French brain trust on planning set up by the Ford Foundation from 1961 to 1970. He published numerous articles dealing with public policy reform and légal control of administrations.